I wanted to watch this film when I read that Daniel Radcliffe, the star of the Harry Potter films, would play the lead character in this remake of a British film that was based on a British novel. Somehow the idea of a horror film that was completely British in production and origin was an interesting one - we've way too many horror films that are from Asia and Hollywood! I knew the synopsis of the film but wanted to give it a shot anyway; it's been a while since I deliberately paid money to watch a horror film so I was really looking forward to this one :)
Plot
Arthur Kipps is a lawyer who is still reeling from the death of his wife - his grief is affecting his work and his relationship with his 4-yr-old son. His law firm provides him with an opportunity to redeem his career: he's to sort out the estate of Alice Drablow, owner of Eel Marsh House. Upon his arrival to the manor, he glimpses a woman dressed in black while sorting out piles of papers left at the house. To his horror, children die whenever the Woman is spotted.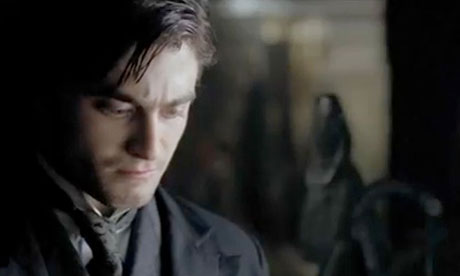 He learns from letters at the manor that Alice Drablow's supposedly deranged sister, Jennet Humfrye had a child that was forcibly taken from her. Jennet's son died in the marsh and Jennet hung herself soon after. With the aid of Samuel Daily, a wealthy man who lost his son to the Woman, he tries to calm the angry deadly spirit before he is reunited with his son.
Cast
Daniel Radcliffe is quite an accomplished actor outside of Harry Potter - he's been on Broadway and in his 1st silver screen appearance (after Harry Potter), he's shown great maturity in his acting skill - though he's not thoroughly convincing as a father to a toddler with that still-clean-shaven-look-despite-the-stubble appearance.
Ciarán Hinds who plays Samuel strikes a good, convincing portrayal of a man ever grieving for his deceased son yet practical and tries to move on, despite the horrors he's known. Credits to Liz White; although we only see her shrouded in black throughout the movie, she narrates parts through the letters written by Jennet and you can hear the quiet and terribly intense insanity in her voice.
Music
The soundtrack was composed by Marco Beltrami. The music is chilling - from the single-piano-notes to booming, thundering sounds, the tone of the film was beautifully set and sends the terror straight to the heart.
Conclusion
A good horror film to watch; this is spooky right to the core and with minimal special effects/corny script, this film brings the chills that only a good ghost movie can. I enjoyed it very much...despite being afraid of the dark occasionally after watching it :)