Hi everyone! This is a mini update from me, hope everyone is doing good :)
Newfound Hobby
My mom is a fan of Ted Talks and she encouraged me to watch this talk entitled "Why 30 is Not the New 20". The talk is by Meg Jay, an American clinical psychologist. The 3 main points delivered are:
1) Get an identity capital, not an identity crisis; add value to who you are
2) The urban tribe is overrated; reach out and network!
3) The time to start picking your family is NOW
The point really hit home; I'm approaching 30 and I do feel I procrastinate because, hey, I'm not 30 yet. However time and tide waits for no man and I'm inspired to add value to myself. Sparked by the success of my tiramisu experiments, I decided to give baking a try and so far it is a highly enjoyable activity. I may be limited by the capacity of an oven toaster but I like making in small batches for family and friends to sample.
So my blog will occasionally feature recipes that I've tried; maybe a new blog label is required haha! Feel free to share your experience/recipes/advice with me :)
Violin Ensemble
I haven't joined a private violin lesson for about a year due to commitment issues. The music school recently introduced a violin ensemble class and I found the fee reasonable enough to enroll. There will be a concert end of this year and we will be doing the Pirates of the Caribbean theme song! I highly enjoy the sessions; there's a different quality to playing as an ensemble as opposed to performing solo. It is exciting to try pieces that sounds better played by an ensemble, so I look forward to learning new songs!
Recent Airplane Tragedies
Everyone is aware of the recent airplane tragedies; the ones that hit close to home is the still-missing MH370 and the terrible shooting of MH17. We can not know the grief and the pain that the victims' family members and friends are going through. I appeal for everyone's consideration and empathy to think of the victims' family members and friends; it is senseless and insensitive to share unverified information. We can only pray they have the strength to endure these troubling times.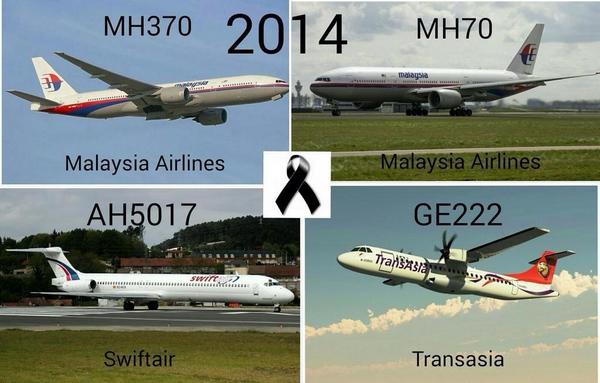 I hope 2014 has been a good year for you and it may be better yet! :)
Watch the video here